Bikepacking Gear List
September 12, 2020
I love to see what other people pack on their trips, so here's my list from my last bikepacking expedition.
Gear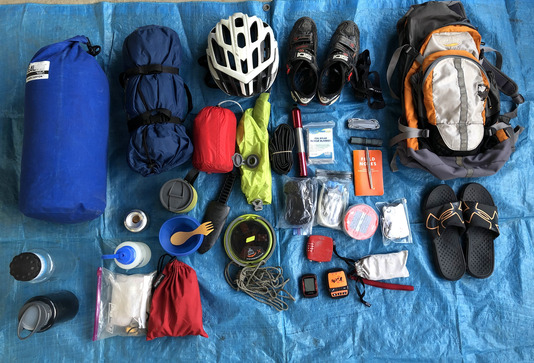 Dry bag with 30-deg down sleeping bag
1-person tent
Helmet
Shoes
Headlamp
Pack (with 3 liter bladder)
Inflatable sleeping pad
Inflator bag for pad / also serves as pillow
Spare tube
Pump
Mylar emergency blanket
Leatherman multi-tool
Flashlight
Notebook (waterproof)
Pen (Fisher space pen)
Mug
Trowel
Toolkit

Fix-it sticks bike kit (includes chain tool), CO2 head and cartridge, torque key, spoke wrench, chain pliers with spare links.

Spare parts

Derailleur hanger, zip-ties, fiberfix emergency spoke.

Solar lantern
Battery bank to recharge Garmin, phone
Sandals
"Penny" beer-can alcohol stove
Stove fuel (denatured alcohol)
Bowl
Spork
Collapsible pot
Coffee cone (inside pot)
P-cord
Cable lock
Garmin computer
Spot tracker
Camera
Stove accessories: striker, wind screen, pot stand, 1oz squeeze bottle
Water filter (I actually took a Steripen, since I was heading to lakes)
2x 1-liter Nalgene bottles
Bike equipment (not shown)
Frame bag (custom)
Seat pack (Revelate)
Handlebar bag support (custom) to hold drybag
"Gas tank" (Revelate)
2x feed bags (Revelate)
2x King Many Things Cage on forks
Clothing (not shown)
For a March trip, somewhat chilly and damp but not at altitude, or I would have brought additional cold-weather gear.
Liner shorts w/ chamois
MTB overshorts
Compression tights
Wool underwear
Kneewarmers
Wool jersey, long-sleeve
Wool cap
Wool cycling socks, 2 pr
Cycling gloves
Puffy jacket
Rain shell
Food
I consumed almost all of this, on a strenuous 3-day/2-night trip to Henry Coe State Park. I made coffee at my lunch stops, which I don't typically do, but it was chilly and I really needed the pick-me-up! As a result, I used up all of my coffee, and nearly all of my stove fuel.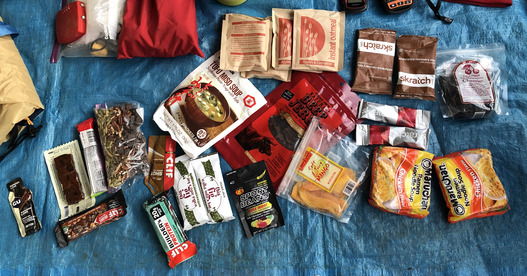 2x backpacking meals - dinner
4x oatmeal - breakfast
2x skratch labs recovery drink mix (This was wonderful at the end of the day! I think it really made a difference.)
Dried cherries
2x miso soup (expired, bleah. But I ate it.)
Jerky
2x skratch labs drink mix
2x ramen noodles - lunch
Dried mango slices
Sport beans
2x fig bars
Builders protein bar
Clif shot
Shot blocks
Meaty bar
Gu
Bag of nuts and choc chips, as oatmeal topping/snack
Coffee